Only a few more days left before Father's Day! I have a feeling that I am not the only one who has yet to get his or her dad a gift. I have made it through college, but I never got rid of that procrastination habit! Not only did I wait until the last-minute, but I also didn't budget properly. If you only have few days and few dollars, DIY is your best bet!
You may think that your dad isn't the kind of guy that would appreciate a DIY gift, but here are clever DIY options for all personality types, from nerdy to athletic and everywhere in between:
Master Chef – DIY Hot Sauce
Does your dad spend all of his spare time in the kitchen preparing meals for his loved ones? Does he need to be a contestant on Hell's Kitchen (or at least thinks he should be)? If so, make him Homemade Hot Sauce with this 4-ingredient recipe from Kitchen Stewardship. He can try your special sauce when he makes the next special meal for you and your family!
Bookworm – DIY Stash Book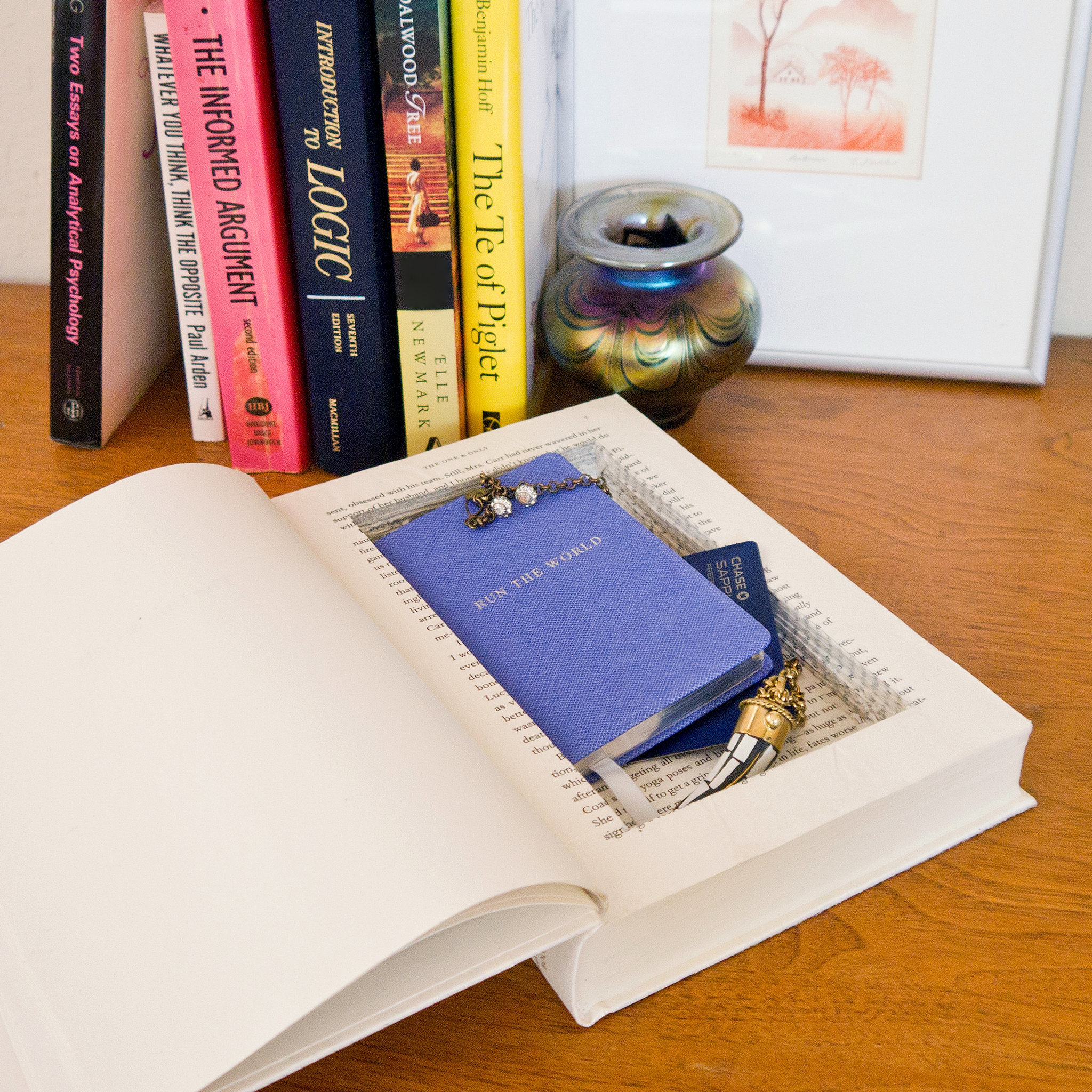 Does your dad always have his head in a new book? Is he always spewing off new facts or quotes? If so, use an old book you have in the back of your closet to make him a Stash Book. He can add this gift to his bookshelf and keep all of his secrets hidden away in plain sight.
Health-Freak – DIY Trail Mix
Does your dad spend every morning lifting weights at the gym? Is he annoyingly careful about the foods he eats? If so, make him healthy trail mix to eat after his next work out. Try making your own recipe with ingredients you know he loves. If you have no idea where to start, take a look at this Sweet & Nutty Trail Mix by Love.Bake.Read.
To make the gift look extra special, put the trail mix in a cute maosn jar. Then, wrap around this free "I'm nuts about you, Dad!" printable by Design, Dining and Diapers.
Game Day Fan – DIY Beer Cap Coasters
Does your dad spend every Sunday afternoon during football season shouting at the TV with his buddies? Does he continuously check the score updates on MBL games while you and your family go out to dinner? If so, make him coasters out of beer bottle caps (be honest, I know you have plenty of those in your recycling bin from last weekend!). For step-by-step instructions, visit Simply Wright.
Chillaxer – DIY Ceramic Mugs
Does your dad love to spend the weekends sitting in his loveseat while watching TV? Does he sit on the porch reading the newspaper every morning? If so, make his morning cup of coffee extra special with a personalized coffee mug. Check out my DIY Stencil Mug video for a how-to video!
Nature-Lover – DIY Succulent Plant
Does your dad drag you along for 10 mile hikes before sunrise each Saturday morning you are home? Does he love to care for his garden in his backyard? If so, make him a succulent to bring the nature he loves so much into his house. While plants may seem scary to those of us with a brown thumb, The Summery Umbrella has a wonderful DIY Mason Jar Succulent tutorial.
Work-A-Holic – Wooden Pen Holder
Does your dad often time stuck at work past dinner time? Does his job require him to travel on the occassional weekend? If you, make him a personalized pen holder out of a small wooden block. With a handmade gift sitting on his desk, he will be able to remember how much he is loved each time he wishes he was at home instead of stuck in the office. Lil Blue Boo explains how to create a DIY pen holder and add your own touch.
Foodie – Chocolate Bacon Bark
Does your dad love all types of food, from savory to sour and spicy to sweet? Does he love to adventure to new hole-in-the-wall eateries and trendy restaurants to try foods that you have never heard of? If so, make him this chocolate bacon bark by m's belly. Even if it sounds distugsting to you, your father's adventurous pallete is bound to thank you!
Try wrapping the bark in a unique container that matches the uniqueness of this salty treat. Then, top it off with this free Dad's Stache printable from Thoughts from Alice.
Party Animal – DIY Shot Glasses

Does your dad always bring fancy liquour to family gatherings? Does he egg on the rest of your family to keep up with his alcohol intake? If so, make him personalized shot glasses to make his next party even more memorable. Check out my DIY Shot Glasses tutorial for a how-to video.
With all of these secret DIY weapons, you are bound to make the perfect gift for your special father! Now get off of your computer and get crafting or cooking. Be sure to let me know how your gifts turn out.